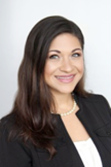 System High has announced the appointment of Sarah Lord as Chief Operating Officer (COO) of the corporation effective immediately. As COO, Ms. Lord will execute the corporate strategy by effectively overseeing and managing the day-to-day company operations and resources to achieve organizational performance and growth objectives.
"Sarah brings insight and perspective from both her formal education and through excelling at each position she performed coming up through the ranks. She is the epitome of a rising professional at System High. She effectively balances the needs of our people to the needs of our customers and the company," said President and CEO, Rob Howe. "Her servant leadership style is evident in everything she does, from tailoring our culture to meet the desires of our employees and customers to always putting others before herself."
Since joining System High in 2009, Lord has been promoted to positions of increased responsibilities and most recently held the position of Chief Human Capital Officer. In addition to her traditional responsibilities in this area, she performed a multitude of other functions to include creating the corporate "Burn Blue" culture, which drives excellence in everything at System High. "People-first companies must adopt and embrace people-first practices in everything we do," said Lord. "We are devoted to creating a professional experience that attracts superior performers who choose to spend their careers with us. This commitment to our people, and most importantly their families, is a pillar of our success and reflective of the servant leadership present across our entire organization." "The culture that is evident at System High is truly unique in industry, and is a discriminator that made the partnership so appealing to us," said Jason Rigoli, Partner at Enlightenment Capital. "Sarah's passion and commitment to the success of System High is evident across the organization."
"With our recent partnership and our exclusive P2 solutions, System High is well-postured to dominate lifecycle protection in the upcoming years," said Lord. "I am tremendously honored and humbled to accept the position of COO, and could not be more excited to contribute to our continued success. We're going to do great things."
About System High
System High provides high-end solutions for some of the nation's most sensitive activities and has become a leading provider and integrator of global protection and security engineering services. System High's reputation of succeeding where others have failed is a direct result of bringing together and delivering the most innovative, critical thinking professionals to solve the most complex security challenges across both government and commercial sectors. For more information, visit www.systemhigh.com.
About Enlightenment Capital
Enlightenment Capital, a Washington, DC area based private investment firm, provides senior debt, mezzanine debt, and equity to middle market companies in the Aerospace, Defense & Government (ADG) sector. The firm partners with businesses that provide vital services, protect critical infrastructure, innovate cyber and data solutions, enhance decision making capabilities, engineer aerospace systems, safeguard national security, and endeavor to meet the challenges of today and tomorrow. For more information, visit www.enlightenment-cap.com.